Linda Löfwing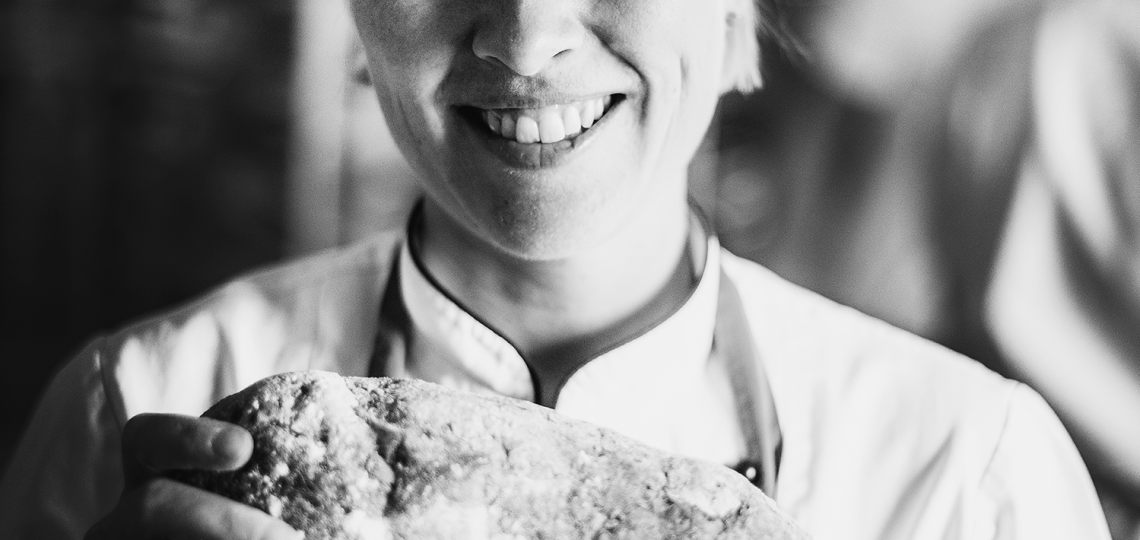 Linda Löfwing
When does a dream become reality? Was it ever just a dream? Or does it become real without you noticing? While you're putting in drainage, burying cables, building, extending, laying tiles on the roof… "It's only afterwards that you realise that perhaps it wasn't just a dream", says Linda, "but a real and practical idea".
For as long as Linda can remember, it's all been about the kitchen and food. Linda's father ran a large farm with her brothers at Stora Bjurum, the farm where she grew up. Linda learned the importance of excellent ingredients before she could walk. At a young age she began to mince meat, fill sausages, clean the meat grinder and, of course, wash the dishes and bowls. The farm also had cattle, producing milk and meat, together with its own abattoir and farm shop. So there was always something to do.
Including farm employees there could be as many as 12 people for dinner. That meant cooking, setting the table, serving the food and ensuring that everyone was happy. "For me it was the most natural thing in the world", says Linda. "It was all I knew." Sometimes Stora Bjurum held banquets for up to 600 guests with whole roasted suckling pigs on a spit. A great way to learn about mise en place and logistics.
Not surprisingly then, Linda became a chef. For a while she worked in the butcher's shop at Stora Bjurum. She also dealt with the calves and milking and worked in her prospective in-laws' jewellery and watch shop before picking up her first tips as a professional chef and conference host at Dagsnäs Castle; experience she took with her to the Persberg on the other side of the lake.
It has been quite an adventure. In barely two decades, they have done more than many manage in a lifetime. Holger's old home on the hill is now a culinary and cultural attraction.
How have they managed it? What is the secret, apart from mothers-in-law who never let you down? It's hard to say. Perhaps their dynamics have something to do with it; the turbulence created by two very different temperaments. Linda talks of Göran as fast and impulsive and of herself as the exact opposite; slow and careful. "Though not always", objects Göran. "Like the time you saw Siv and Stina Juhlin's tableware in the Nature from Gustavsberg series at the time we were opening the café in the barn and should have been thinking of our finances." Linda fell completely in love. They were poor, but the colour was irresistible, gooseberry green, transparent on bone china, so beautiful… and so expensive. For the price of a single cup and saucer you could have bought 20 mugs at IKEA. Talk about an impulse buy! But what can you do?
Something for the eye, something for the palate, something for the soul and something for the stomach is Linda's philosophy. These days, the meal as a whole experience is a constant mantra in cooking programmes and culinary writing. But Linda means it. And guests should be both full and happy. She learned that at home in Stora Bjurum.
Her driving passion is her concern for the food and the guests. She doesn't make things complicated in the kitchen. The menu is seasonal, the dishes are simple, basic but with a twist. Ingredients are real, preferably locally sourced and early. Gullspång salmon and tender asparagus in the spring, spicy game and rowan jelly in the autumn. At Löfwings you eat what's in season if Linda gets to decide. Which she does. And caring about your guests is always in season.