Surroundings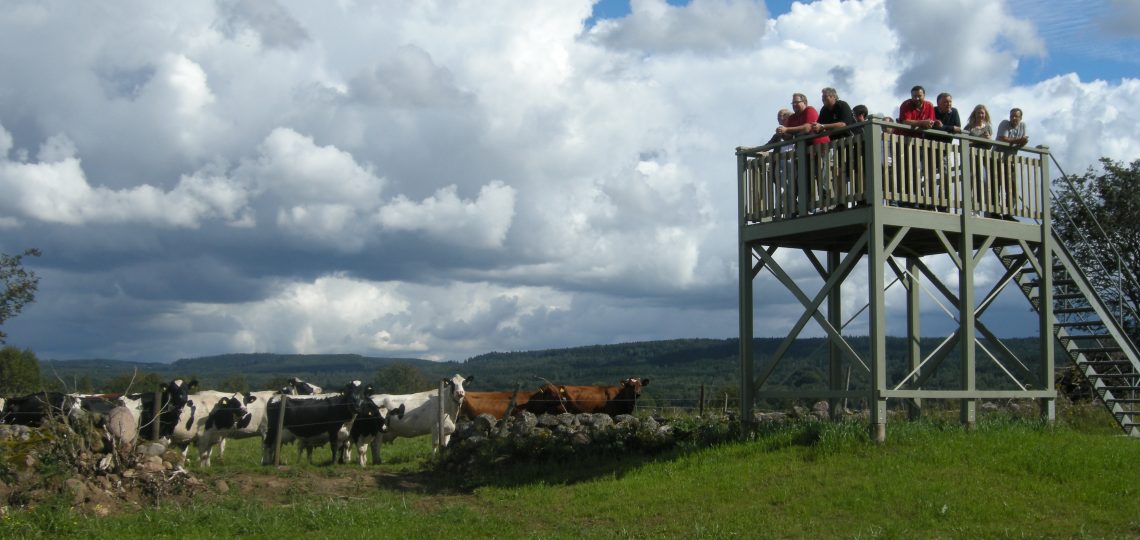 "This is were he belong. Göran never got further than 2 km from home. He is painted in to the landscape, Falbygden, Hornborgasjön, The crane kingdom. The triangle between Falköping, Skara and Skövde, near the plateau mountains."
Here is our best places of intrest around us, that we think is obvious sightseeings.
Every spring the crane returns to Hornborgasjön and dances.
Trandansen is located southwest of Hornborgasjön and is 10km from Löfwings.
At Hornborgasjöns eastern side is Naturum, here you can read about the lakes history and bird life. You can also look at birds in hiding spots or take a fika at Café Doppingen.
Its located 5km from Löfwings.
Ytterberg
Ytterberg is located just 2,5km from Löfwings so you can just take a walk and look at the beatifull view of Hornborgasjön. Here is also a observation tower and a place have a picnic or a fika.
Walk trough a scenic trail where you pass Gudhems monastery ruin. You start at S:t Olofs kyrka in Falköping and ends att Varnhems monastery.
You also pass Löfwings where you can fill up your watter bottle at our outdoor seating.
Gudhems monastery ruin is located 9km from Löfwings. Here you se trough history and read about cistercians in Sweden.
Here is Swedens oldest chruch with excavation from the 12th century that tells us a unique history about the monastery and the monks who lived there. There is also the story about Kata who ruled at the farm during the end of the Viking Age. 12km from Löfwings.
With only 3km from Löfwings there is a unique burial ground with graves from 3300 years bc untill the Viking Age.
At Billingens western hillside has the inland ices left behind the unique landscape with lakes, meadows and 6 nature reserves. Along Vallevägen, the cherry blossoms every spring and there are plent of cafés, B&B and farm shops.
Karleby Garden market is famous for their big geranium sell. Here you can buy plants and their own products, like homemade mustard, pickled cucumber, appel juice and sap.
Falbygdens cheese is running in the 5th generation and here is more than 150 types of cheese. There is also a shop, restaurang and delicatessen counter. Located 17km from Löfwings in Falköping
Tasty cheese from Falbygden. At Påverås Gårdsmejeri can you feel the taste of open landscapes and culture, everything is small-scale produced. Here you can sit down in a rustic
environment and taste Påverås products.
On the other side of Brunnhemsberget in Stenstorp is the museum of Dalén. You can walk trough exhibitions and the history of Gustaf Dalén.
Visit Scandinavias biggest waterpark! Fun for the whole family, they have a camping, tivoli and lots of waterslides.